The boss Satya Nadella at Microsoft introduced Windows 11. While the UI is being modernized the operating system will be largely unchanged. The start screen has been redesigned to be more centered instead of being spread out. Active tiles are now gone. Windows 11 is the first operating system from Redmond to demand a 64-bit system.
Microsoft details improvements to gaming as part of Windows 11.
Improvements include Direct Storage support, Auto HDR, and DirectX 12 Ultimate.
Windows 11 serving for home and professional users is 24 months
Windows 11 will be free for most users. The system requirements are available and some old machines lack suitable hardware. Most of my loyal readers have elite gaming machines so they are good to go. Best bet is to consider a new faster SSD now that an abundance of PCIe 4.0 options are available. A fast 512GB SSD is perfect for the system volume and a larger SSD can be placed in the second slot. Laptop users are the worst off as they have to buy whole new machines.
The servicing standard for 24 months is longer than the Windows 10 standard of 18 months. Windows 11 will be using easier to install update rollups which are far less disruptive.
There are no unique licensing requirements for Windows 11 beyond what is required for Windows 10 devices. Microsoft 365 licenses that include Windows 10 licenses will permit you to run Windows 11 on supported devices. If you have a volume license, it will equally cover Windows 11 and Windows 10 devices before and after upgrade.
Like Windows 10, Windows 11 will receive monthly quality updates. However, it will have a new feature update cadence. Windows 11 feature updates will be released once per year.
Launching Windows 11 in 2021 allows Microsoft to take advantage of the fact that PC buyers are upgrading from old machines at a higher rate. It gives the company the best chance of baking in certain security features as an expected baseline on the widest range of PCs. In its messaging, Microsoft has emphasized that Windows 10 will be supported through 2025, and we suspect that's partly to take the sting out of this shift.
DX12 ultimate is already a feature of Windows 10. The auto HDR is desirable as more and more panels are featuring more than 8-bit RGB color. A growing number of recent games are now supporting HDR color quality. HDR10 provides 1 billion colors providing a rich platform for photography in addition to games. The subtle color tones and hues are well rendered with IPS panels which can deliver color quality that is not possible using the cheap TN technology. LG spent big on IPS and now it is paving the way in color televisions and computer monitors with excellent color.
DirectStorage is part of the DX12 platform seem with the PC and the new Xbox X|S platforms. Now that consoles are using a fast SSD this allows developers an opportunity to improve game asset management. Rapid load times can reduce the need for long waits for the next map etc.
Windows 11 provides a calm and creative space where you can pursue your passions through a fresh experience. From a rejuvenated Start menu to new ways to connect to your favorite people, news, games, and content—Windows 11 is the place to think, express, and create in a natural way.
Microsoft CEO Satya Nadella positioned his company as the anti-Apple store, claiming "the world needs a more open platform."
The comments come after Apple has faced legal pressure for controlling access to apps through its App Store.
One eye opening feature is that Windows 11 will be able to run Android apps. The studio has an Android tablet. The iPad is also available for the iOS ecosystem.
The Windows Store is now much less costly for developers. This will pressure Apple and Steam. Xbox is heavily promoting the game pass which is a focus for Redmond for the console and PC alike.
Teams has 145 million daily active users, Microsoft said in April. Teams is growing in popularity rapidly. I have used it one chatting with Microsoft; it works.
There have already been plenty of leaks online showing how Windows 11 is going to look with a new Start Menu, updated sound when PCs boot up and a softer look to the pop-up windows just some of the changes that could be launching soon. The leaked Windows 11 is alpha quality as Microsoft clearly indicated that the operating system is not ready for release for 3-6 months.
Many machines today are laptops with tablets being a smaller market segment. Gaming is now a major chunk of the windows ecosystem. Desktop gaming machines tend to be at the high end of the market. Gamers spend as much as a good laptop just for a elite graphics card. The RTX 2080 when it was new was rather expensive.
Windows 11 has all the power and security of Windows 10 with a redesigned and refreshed look. It also comes with new tools, sounds, and apps. Every detail has been considered. All of it comes together to bring you a refreshing experience on your PC.
Microsoft has announced that Windows 11 is going to be available to download by the holidays this year, with beta builds starting to go out to Windows Insiders in the week commencing June 28, 2021.
If the beta of Windows 11 will run in Hyper-V it can be tested easily. Back when Windows 7 was in service, a small partition on the system disk can be made available to install the beta and use dual boot. Windows 10 has excellent game compatibility and developers have tools to run DOS games and up fine.
If you'd like to see if your current PC meets the minimum requirements, download and run the PC Health Check app. It is amusing the gaming rig is not compatible. Most likely a clean install will be needed.
The upgrade for Windows 11 will be free for those with suitable machines. You do not have to upgrade to Windows 11. Microsoft will continue to support Windows 10 until October 14, 2025. That means existing Windows 10 users are safe for now.
Some users are loath to upgrade which is understandable, they do not want to have their machine messed up. Microsoft messed up Windows 10 updates and they learned now to smooth the process to be seamless.
The most controversial feature of Windows 11 is its taskbar. By default, the taskbar is in the middle just like Apple's OS X. However, you can change it to left by going to settings. You will love the center taskbar especially if your own a MacBook like I do.
The new snap layouts will take some time to figure out but Windows 11 is designed for ease of use. Ease of use has attracted a lot of study over the years ranging Early on keyboards and desks were studied. The first versions of Windows were not hard to use and Microsoft has continued to make Windows as easy to use as possible.
TPM 2.0 REQUIRED
The Athlon 3000G is socket AM4 which supports TPM 2.0. Older motherboards that have a header will need the TPM module installed in order to install Windows 11. The header for a TPM module has been on motherboards for at least a decade but TPM 2.0 is mandatory.
The main reason for the TPM to to drive users away from vulnerable machines. Recall the Spectre and Meltdown problems. The motivation is to get consumers to buy new machines that are designed away from the security problems with older hardware.
The X570 platform is typical that the TPM feature is not enabled. This needs to be enabled for Windows 11.
TPM 1.2 is known from the old Lenovo and machines in the studio. The Apple MacBook supports Big Sur which supports the TPM on that system for Apple security. The AM4 platform has integrated TPM 2.0 as an enclave on the CPU die. AM4 also supports secure boot. Motherboards also have had a header for a TPM device but prices have spiked with the system requirements.
Years ago Intel proposed putting a serial number on the CPU. The outcry over privacy forced them to back down. Intel was motivated to handle valid warranty claims. Now Microsoft is pulling the same stunt. AM2 motherboards lacked a TPM header but AM3 motherboards did come with a TPM header. The TPM was comparatively expensive at $34-$40 each so adoption was slow.
The motivation for demanding the TPM has some issues to consider. The TPM can be used by Windows as a personally identifiable device which is a privacy violation. Earlier versions of Windows do not need a TPM to enable Bitlocker, Windows simply saves the key to a USB stick for recovery. The early TPM was designed to protect mobile machines from theft to keep secure information secure, the machine could be reset but secure data is unavailable. The Lenovo T400, Lenovo T500, Lenovo X220 and Lenovo X230 all have TPM 1.2 hardware and the only way to modernize is to remove and replace the TPM chip.
Some Intel Skylake users who installed a discrete TPM device were able to install Windows 11. The supply of TPM devices should improve quickly given that Windows 11 requires it. AM3 motherboards are also known to have a discrete TPM slot so check with fleabay for a suitable model.
WDDM 3.0
Windows 11 is now supporting WDDM 3.0 which adds a few incremental features. NVIDIA Pascal and above are supported and AMD Polaris and above are supported.
SSD PREFERRED
Given the system requirements for Windows 11, chances are the machine has an M.2 SSD installed. Windows can make do with 64GB but a larger capacity unit is very desirable. Many full ATX motherboards have dual M.2 NVMe slots. The reason for a larger SSD even if it is not needed is due to wear leveling requirements which the firmware uses to extended the service life. While expensive, the largest M.2 SSD products now reach 8 TB.
With the most recent X570 systems, most of the supported CPUs all support PCI Express 4.0 for the primary slot. The secondary slot is usually PCI Express 3.0 and both are NVMe with the secondary able to also support M.2 SATA drives.
INTEL ALDER LAKE
Intel's Alder Lake is not expected for several months but unlike current processors it has cores more like mobile phones with some performance cores and some low power cores. Intel clearly wants to improve laptop battery life and the Alder Lake design can achieve this due to the lower power design. AMD has not made any announcements yet but its likely they will also have a similar processor to compete with Intel in the mobile market.
REDUCTION OF HAZARDOUS SUBSTANCES
By obsoleting over 1 billion machines the idea of the RoHS emerges. TPM 2.0 support is only readily available in the DDR4 era. The staggering amount of hardware being junked will result in a vast amount of computer equipment in landfills and incinerators. Large numbers of older laptops are now near the end of the road, junked not because they are dead but because Windows 10 is the last versions of Windows to run on a potato.
SYSTEM REQUIREMENTS
| | |
| --- | --- |
| CPU | Dual core or better |
| Memory | 4 GB or more |
| Hard Drive Space | 64 GB or more, SSD recommended |
| Graphics Hardware | DirectX 12 compatible graphics / WDDM 2.x |
| Display | 9" or better with HD Resolution (1280×720) or better |
| Network | Microsoft account and internet connectivity required for setup for Windows 11 |
| Security | TPM 2.0 support |
Some new entry level machines may lack TPM logic and with OEM Windows 11, it's going to be a nuisance. Given the X570 is now stable the need for a new CPU or memory is not required. The video card is the only real focus but shortages are a problem that may take 12-18 months to address, Windows 11 will run on NVIDIA Kepler or better and AMD Radeon GCN cards. AMD recently obsoleted some earlier GCN, GCN2 and GCN3 cards leaving Polaris and above s supported cards. A more recent card will be an advantage with Windows 11.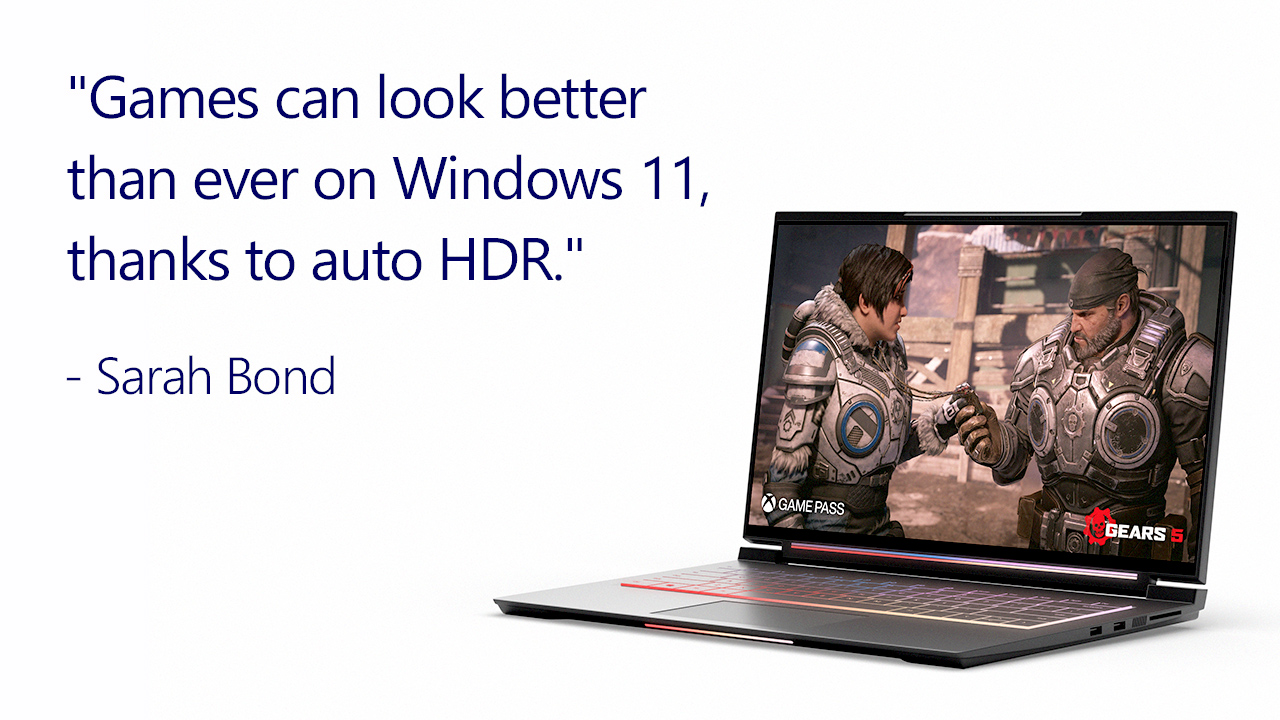 Our guess is that Microsoft hopes to use the unexpected surge in PC demand to drive a quicker shift towards better security standards than it could otherwise have achieved, and is launching Windows 11 relatively soon for that reason. This also dovetails with Microsoft's emphasis on improving security in hardware, through avenues like its Pluton security processor.
NB: Images courtesy of Microsoft